Led Sign City Series 7X10 outdoor custom led sign with brilliant full-color programmable digital signage, Free software, and wireless communication
Introducing the Led Sign City Series 7X10 outdoor custom led sign - the perfect option for eye-catching, full-color digital signage. This revolutionary sign comes with free software and offers wireless communication. Make the perfect impression with brilliant, impactful advertising - draw in customers and benefit from the ultimate digital branding solution!
Build as a single sided our double-sided led sign and help your business stand out with stunning images and videos. Eye-catching visuals come alive on a vibrant digital display. Showcase your brand and products in the best light and create a stand-out presence in any environment. Enjoy a worry-free experience with a 15-year warranty on your LED Sign City Series 7X10.   
Technical specifications
| | Beacon HD | P6 MM | Beacon | P8 mm | Spotlight | P10 mm | Lighthouse | P16 mm |
| --- | --- | --- | --- | --- |
| Screen Size | 7 feet x 10 feet (Actual: 88.2 * 126-in) | 7 feet x 10 feet (Actual: 88.2 * 126-in) | 7 feet x 10 feet (Actual: 88.2 * 126-in) | 7 feet x 10 feet (Actual: 88.2 * 126-in) |
| Display Visibility | Single Sided / Double Sided | Single Sided / Double Sided | Single Sided / Double Sided | Single Sided / Double Sided |
| Pixel density | 2304 Pixels | 1600 Pixels | 1024 Pixels | 400 Pixels |
| Display Resolution | 336 pixels x 480 pixels | 280 pixels x 400 pixels | 224 pixels x 320 pixels | 140 pixels x 200 pixels |
| LED Configuration | DIP SMD 3 in 1 | SMD 3 in 1 | SMD 3 in 1 | DIP Real Pixels |
| Design | XIGNZ Modular LED | XIGNZ Modular LED | XIGNZ Modular LED | XIGNZ Modular LED |
| Media Support | Images, Videos, Slides, and more. | Images, Videos, Slides, and more. | Images, Videos, Slides, and more. | Images, Videos, Slides, and more. |
| Brightness | Standard 7000 Nits / High Brightness 8000 Nits | Standard 7500 Nits / High Brightness 8500 Nits | Standard 8500 Nits / High Brightness 10000 Nits | Standard 9000 Nits / High Brightness 11500 Nits |
| Power consumption | Max 6650 watts per side | Max 6650 watts per side | Max 6650 watts per side | Max 6650 watts per side |
| Sensors | Temperature and Brightness | Temperature and Brightness | Temperature and Brightness | Temperature and Brightness |
| Communication | LAN, WIFI, 4G (Optional) | LAN, WIFI, 4G (Optional) | LAN, WIFI, 4G (Optional) | LAN, WIFI, 4G (Optional) |
| Weight | 700 pounds per side | 700 pounds per side | 700 pounds per side | 700 pounds per side |
Sign dimensions: seven foot by ten foot, eighty-four inches by one-hundred twenty inches, 84x120, 84x120, 120 inches wide by 84 inches tall, 84" H x 120" W, 7' high and 10' wide, 7x10 ft, 10 feet wide, 7 feet tall
seven foot by teen foot seven feet by teen feet seven by teen foot seven by teen feet outdoor led sign eighty-four inches by one-hundred twenty inches eighty-four inch by one-hundred twenty inch eighty four by one hundred twenty Ebay byos 84x120 84x 120 84inches wide by 120 inches tall 84inch tall by 120 inch 84" H x 120" W 84 x 120 84 inches by 120 inches 7' high and 10' wide 7x10 ft 7x10 foot 7x10 feet 7x 10 7ft x 10ft 7ft wide 10ft tall 7by10 ft 7by10 7-foot by10-foot 7'x10' 7 x 10 7 ft X 10 ft 7 foot by 10foot 7 foot by 10 foot 7 feet by 10 feet 7 by 10 10 feet wide 07 feet tall
Optimize the Outdoor Display. Make your MARC
According to the custom LED sign cookbook, resolution is the salt. Brightness is the pepper and refresh rate is the lime. Configuring these three things makes all the difference. Adds that crisp and clear edge to the viewing experience
The right specification can unlock the superpowers of a digital sign. But do you have the time to tackle the manual on "What to expect when you are expecting a LED sign"? Or do you get a headache from researching pixels and nits, chip sets and real pixels?
Then let us give all the help you need! (If thats the case, here is all the help you need!)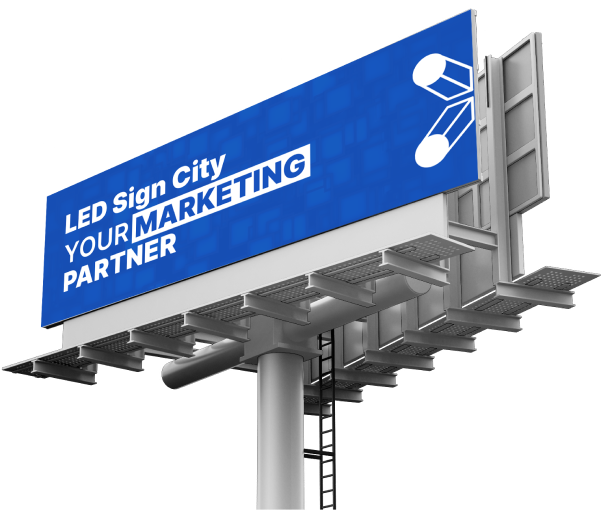 Software Capabilities
Our LED digital signage comes with a plethora of flexibility. The built-in software helps users find the easiest ways to maximize the viewing experience for their audience. Explore the cornucopia of benefits!
Transition Effects
Text
Photo
Video
Slideshow
Clock
Weather
Countdown
Schedule
Frequently Asked Questions
Industry-leading 15-year warranty. First two years, we provide parts at the total replacement value. Year 3-15 parts are provided based on the remaining useful life of the component.
From when you place your order to when it arrives, it is 6-8 weeks. Larger projects require more time to ensure perfection.
Yes, you can stretch your payment and increase your cash flow. We also offer attractive finance packages with no or low interest from 12 -60 months.
What comes with your LED Sign?
How to handle the crate and your LED Sign when unpacking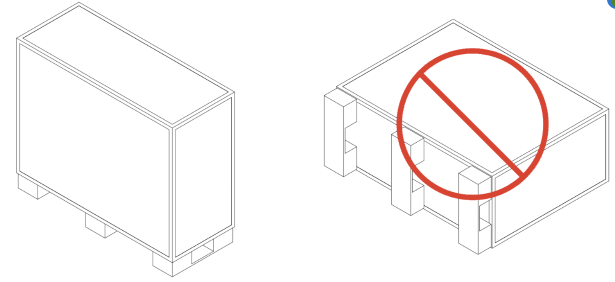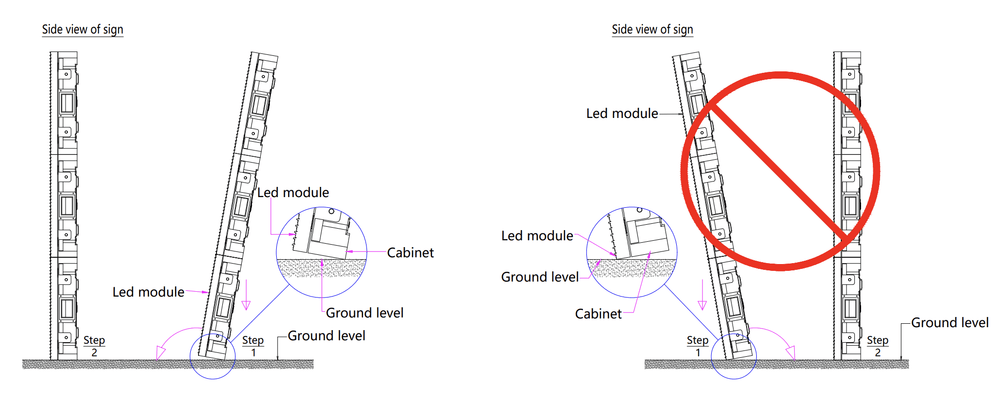 How to assemble your LED sign?
After unpacking the sign, inspect all the included LED Sign sections.
Tools and Parts that will be used in this step:
13/14 MM Ratcheting Wrench (not provided
17MM Socket (Not Provided)
Drill / Driver (Not Provided)
M10 bolts
M8 Bolts
X Bracket
Focus your attention on the edges of each section. You will notice that there are three (3) different configurations:
Cable tunnel is open with a preinstalled rubber seal (ensure rubber seal is in every slot before connecting the M8 bolts.
Cable tunnel is open with an open center metal gasket preinstalled.
Cable tunnel is closed with a solid metal gasket preinstalled.
See illustration below.
The open cable tunnel is the center edge.
The closed tunnel with solid covers is the outside edges.
For signs with multiple rows, this will also help you identify which sections will be on top.
The sections with the closed cabled tunnels on top are the top row
And the sections with the open tunnel on top is the bottom row.
Once you have found the left and right outside edges, arrange your cabinets in the sequence A1, A2, A3, and so on. If your sign has multiple rows, start with the bottom row, then continue by installing the top row in the correct sequence.
Keep in mind the left and right edges are already in their respective positions (based on the position of the closed cable tunnels).
Next align the sections linking A-1 to A2 using the provided M8 Bolts.
You will need two M8 bolts for each cable tunnel. For example, if your sign has three cable tunnels you will need six (6) M8 Bolts.
Repeat this step until all sections are complete.
Pay special attention to the front of the sign to ensure that bulbs are aligned as best as possible between sections.
See the illustrations of the installation:
After unpacking your X Series LED Sign, arrange your sign cabinets in sequence so that a clear hole aligns with threaded hole.
Insert the bolt through the clear hole and screw it into the threaded hole to hold the signs in position. Each cabinet has two holes on the side.
Use the provided socket to fasten the upper and lower bolts on the side each cabinet.
Place the X Clip in the center of every four cabinets and screw in the bolts to hold the clip in position.
Position the brackets on the back of the sign and use the provided bolts to secure the brackets to the sign (Connect brackets as needed for install).
Your LED Sign may arrive in preconfigured sections that you are required to connect together to assemble the required dimensions. Below we will walk you through the steps required to assemble your display and prepare for installation.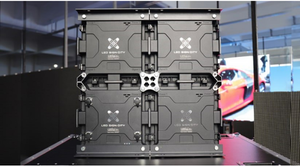 Your assembled sign should resemble the illustration above.
NOTE: For larger signs where the sections will be stacked. You will need to install addition m8 bolts where the cable tunnels on the top of the bottom row, and the bottom of the top row intersect. That's two bolts for each cable tunnel (before installing, verify that there is a silicone seal on top of the bottom row, and that the open center metal gasket is installed on the bottom of the top row).
After you have connected all the sections, your next step is to install the supporting X-Brackets.
Take note of the pattern of preinstalled X-Brackets. There will be an X-Bracket at the intersection of four (4) modular cabinets. Place the bracket over the hole and use the provide M10 bolts to secure the bracket to the back of the sign.
How to connect the signal and power cables for your LED Sign
Tools and parts needed in this step:
Power cables
Signal Cables
Antenna
Antenna Cable
Brightness sensor
Your power cables are the 13/14 AWG cables with a preinstalled 3 Pin Weatherproof connector on one end. The second end of the cable is either unfinished or has terminal connectors preinstalled.
All Sections, except for the main section, have two power ports, with the labels Power 1 and Power 2. These ports can be used interchangeably. You will connect one power cable to each section. Plug the power cable to Power 1 on the main cabinet, and Power 1 or Power 2 on the remaining sections. One power cable is required per section.
How to identify the main cabinet.
The power 2 port on the main cabinet has been converted to your brightness sensor port. Depending on your configuration, there will be a 9-pin connector or 4 pin connect in the power 2 port on the main cabinet.
The main cabinet is usually on the left side of the sign (when looking at the front of the sign).
After plugging in your power cables, you will need to terminate the wires to your junction/breaker box (not included). Note the color code for your wires:
Connection for 110V
Brown/Black – Hot / Live
Blue/White – Neutral
Yellow and green/ Green – Ground
Connection for 220V
Brown/Black – Hot / Live
Blue/White – Second Hot
Yellow and green/ Green – Ground
Be sure to secure the power connector to them before turning the power on. And follow proper safety procedures to prevent electrical shock.
How to connect your Brightness sensor to your led sign
Your brightness sensor connects to the Converted / Power 2 on the main section. You will also see the sensor tag on the connector cover. The sensor and power cable use different pin configurations so it's not possible to the sensor to the power or the power to the sensor.
How to connect your LED Sign's network antenna.
The antenna connects to the signal 2 port on the outside edge of the sign below the sensor. Your Antenna cable has a 9 pin connector on one end and an ethernet/RJ45 connector on the other end. Connect the Antenna cable to the signal 2 port on the main section. And connect the other end directly into your antenna. (note the included POE injector will not be used at this stage, so do not connect to the sign).
To connect the cable to the antenna, remove the cover at the bottom to reveal the ethernet port. Connect the cover and reinstall the cover. If you opted for the 4G LTE antenna, your antenna may have 2 ports. In this case connect the cable to the WAN Port.
Once they are correctly connected you should immediately see the power lights on the side or front of the antenna depending on your configuration. If there are no lights, check to make sure you connected to the correct port. You should also see the antenna label on the cap on the back of the sign.
When installing the antenna, ensure the antenna is installed vertically with the cable coming from the bottom of the antenna.
How to connect your signal cables to extend the image on you led sign
Your signal cable has two 9 pin connectors on both ends of the cable. Start by connecting the signal cable to the Signal 1 port on the main section. Then connect the other end of the cable to signal 2 on the next section. Repeat this step until all the signal cables are connected.
For double sided LED signs continue your connection by connecting to signal 1 at the end to the sign 2 on the other side immediately behind signal 1. Then continue your connect from sign 1 to signal 2. At the end you will have a signal 1 port available behind the antenna cable.
Note: if you have a larger sign that has multiple rows of sections. When you get to the end of the bottom row, connect your cable to signal 1 on the bottom row and jump to signal 1 on the top row.
Then connect signal 2 to signal 1 going in the opposite direction as the bottom row. At the end you should have Signal 2 available above the antenna and the sensor. (Imagine making a C-Shaped connection. If you have more than 2 rows imagine making a backward S-Shaped connection that continues until all sections are connected.
Mounting ideas for your LED sign.
Tools and parts required in this step
Angle Iron (L- Bracket)
Support bar / Frame – Illustrated below but not provided
Below are examples of how your LED Sign can be installed. The illustrations provided are for reference only. Always follow your local laws for guidance and construct structure based on required wind load rating and other local requirements.
What customers like about LED Sign City
Justin from Sensenig's Landscaping Supply 4 years ago (in 2019) purchased signs from LED Sign City for our Geneva, NY, and Rochester, NY locations. The digital sign is super bright, and you can adjust the brightness. It is very easy [software]. The LED sign also plays videos. Not only that, if you need parts or anything, the customer support has been great.
What customers say after choosing LED Sign City
Signs are a big investment. I feel like I got the best quality for the best price. The sign gave us better quality than we thought we were getting. Top notch on shipping, payment support, and installation support...and patient to help us learn the easy to use program. Love that I can integrate photos from my website! Woo Hoo!
LED Sign City is amazing! We have had our sign for over 3 years now and it has been the best investment we have made with no issues. We shopped around and looked at reviews and definingly feel confident we made the right decision. Shane walked me thru how to upload images and has always returned calls quickly with any questions we have had.
LED Sign City has been a great company to work with. We have utilized their equipment and customer service to their full potential and have been satisfied since the first training session. Shane, in support, is extremely knowledgeable, professional and patient. The few occasions we've had to troubleshoot with him, we were successful in remedying the issue.
We love LED Sign City. Product performance is spectacular and price was affordable. Shane made the whole process simple. From choosing the correct screen size and resolution to installation and training. Thank you very much for your continuous support
Our church purchased a LED sign from LED Sign City last May 2022. We were overwhelmed with the whole set up process, however one of the Techs, Shane Romone was there to solve all our problems. From the install to the software learning, we were completely up and running in just a few minutes. Our thanks to everyone at Led Sign City for a great product and a Great Support Team.
Hands down the best customer service and product. We have ordered many signs for many store fronts and have been happy with the pricing, service, and when needed tech support! Highly recommend for digital displays. The colors and brightness are amazing and the software is user friendly
LED Sign City has given us value and quality time and again with the purchase of our new sign for our church. We've had to reach out for a little bit of training on how to use the sign program application, but Shane and the team have been incredibly responsive, helpful, knowledgeable, and patient. The sign (P10 model) is amazing and people are talking about it all around the community! We couldn't be happier with our purchase, and we will come back to LED Sign City for our sign needs. Thanks!!
The customer service and speed of service was amazing! Shane went above and beyond to help me to get the products I needed in time for my event and provided video tutorials as well as telephone support to program my displays. I highly recommend LED Sign City for your LED sign needs.
Great products, great service, answered our questions right away. Have had a system installed 4 years now, had a card go out and they helped us immediately! Highly recommend!
Unlock

Full Features & Exclusive

Offers

Create an account or log in to access full pricing details, checkout online, or print a quote. Plus, enjoy exclusive offers and custom financing options available only to account members!
Unlock

Full Features & Exclusive

Offers

Create an account or log in to access full pricing details, checkout online, or print a quote. Plus, enjoy exclusive offers and custom financing options available only to account members!

Gain Full Access